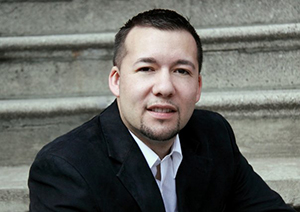 Ruben Austria
Rev. Rubén S. Austria is the Executive Director of Community Connections for Youth (CCFY), a Bronx-based non-profit organization dedicated to empowering grassroots faith and neighborhood organizations to develop effective community-driven alternative to incarceration programs for youth. CCFY's work focuses on building community capacity for juvenile justice reform by training neighborhood organizations in effective practice with court-involved youth, and facilitating system-community partnerships that reduce reliance on incarceration.
Rev. Austria's began his career in 1998 at Urban Youth Alliance, a grassroots faith-based organization in the South Bronx. While at Urban Youth Alliance, he started the BronxConnect program through Public/Private Ventures' (P/PV) National Faith-Based Initiative for High-Risk Youth (NFBI). BronxConnectbecame the first local community-based alternative-to-incarceration for court-involved youth in the Bronx. He developed the initiative into a million dollar program diverting more than 200 youth annually from incarceration, with an 84 percent success rate in keeping young people from re-offending.
In 2007, Rev. Austria was awarded a Soros Justice Advocacy Fellowship by the Open Society Foundation. As a Soros Fellow, he advocated for the closure of youth prisons in New York State and the redirection of prison funds to community-based alternatives to incarceration for youth. While he saw several juvenile prisons closed, he was disturbed by the lack of genuine community reinvestment and the absence of meaningful community engagement at the grassroots level. He incorporated Community Connections for Youth (CCFY) in 2009 to facilitate the process of community capacity building for juvenile justice reform.
Rev. Austria continues to be a vigorous advocate for youth of color in the juvenile justice system. He sits on the national Advisory Board of the Community Justice Network for Youth (CJNY), and the Steering Committee of the New York City Juvenile Justice Coalition. He is a founding member of the New York City Task Force on Racial Disparity and served on New York City's Disproportionate Minority Confinement (DMC) working group.
Rev. Austria has received numerous awards for his work with youth, including the Mentoring Award from the National Mentoring Partnership in 2002, and the Esther House Prison Ministries Award from Rev. Alfonso Wyatt in 2004. He was invited to the White House in 2005 in honor of his work with young people and awarded the NYC Administration for Children's Services (ACS) Child Advocacy Award in 2012. He was presented with the Courageous Leadership Award from James Bell of the W. Haywood Burns Institute in 2013, and the Youth Justice Award from Rev. Harold Dean Trulear of Healing Communities in 2014.
Rev. Austria earned both his B.S. in Psychology in 1996, and his M.A. in Southeast Asian Studies in 2002, from Cornell University. He completed the Institute for Non-Profit Management at Columbia University Business School's Executive Education program. He also completed training from Fordham University Graduate School of Social Services and Big Brothers Big Sisters of NYC to become a Certified Mentoring Program Supervisor. In 2004, he was selected as a Research Fellow by the Robert Bowne Foundation to conduct qualitative research on the youth development and juvenile justice. His article: "Towards a movement: uniting direct service providers and community organizers for juvenile justice reform" was published in the Spring 2006 edition of the journal Afterschool Matters. He is a regular Op-Ed contributor to the newspaper Youth Today.
Born and raised in New York City, Rev. Austria currently resides in the Mott Haven Section of the Bronx with his wife, Ivelyse and their son Jaaziah. Rev. Austria was ordained as a minister in 2010 at the Promised Land Evangelical Covenant Church and currently serves at Metro Hope Fellowship in East Harlem. In his spare time he enjoys playing jazz and bossa nova guitar in a family band with his siblings.