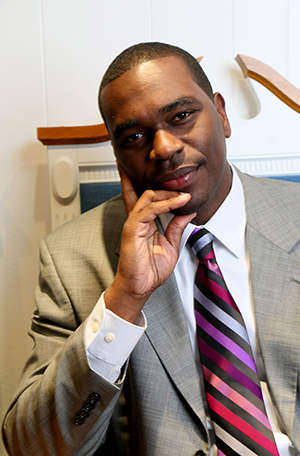 Gilford T. Monrose
Gilford T. Monrose, a native of the US Virgin Islands, founder of Brooklyn Center of Quality Life, moved to New York in 1999 to pursue his studies in the form of a Bachelor of Arts degree in Theology and Bible Studies at Nyack College and Alliance Theological Seminary, and to marry the love of his life, Dianne Thomas.
Gilford always had a lifelong dream of serving the church, especially the youths, and as such functioned as Youth Director for five years, developing programs for our young people at the now historic Mt. Zion Church of God 7th Day.  He worked at their level, demonstrated that he understood their struggles, and worked tirelessly with them to enhance their spiritual maturity.  In this capacity, Gilford flourished , and became a ministerial and visionary trailblazer, and spiritual shepherd to many.  In May 2005, Gilford was ordained to the ministry as Pastor, where he continues to show great and unyielding love for his church and its members.
Pastor Gil's need to give in a capacity beyond himself, goes beyond the four walls of the church, and has motivated him to serve locally and beyond, to create, as well as partner with many organizations.  He has established the Catch The Vision (CTV) Youth Conferences, which has empowered youths, leaders, and marriages, and has attracted youths and adults alike from around the world since 2002.  He also initiated the Unity Gospel Fest at Kingsbrook Jewish Medical Center to bring together spiritual and physical wellness.  Pastor Gil was instrumental in the establishment and development of the East Flatbush Ready When the Time Comes Disaster Team, which through the American Red Cross in Greater New York, provides disaster-relief training to volunteer teams from local community groups.  Gilford serves as Team Leader for the local East Flatbush team.
Gilford's life of service is further portrayed through his work as Chaplain for the Metropolitan Transportation Authority.  Serving as Director of the Faith Based and Clergy Initiative at the Brooklyn Borough President's Office, Pastor Gil proves that not only is there a thin gap between church and state, but that this gap can be bridged.  He currently serves as a Board member for the Flatbush YMCA, and on the Advisory Board for Boys Town.  Gilford, a man who puts no limits, or restrictions on his life of service, currently Chairs the Community Leadership Council of the Kingsbrook Jewish Medical Center.
Pastor Gil has exhibited great interest in social justice and love for community work, and is an Alumni Chair for We Are All Brooklyn, an organization that brings diverse leaders together to solve quality of life issues affecting their communities.  He served as a board member of Community Board #17, on the Community Advisory Board for the Brooklyn Healthcare Improvement Project, as an Advisory Board Member for Explore Charter School, and on the Advisory Board for Kings County Behavior Health Community Council.  Pastor Gil also served as Team Leader for the Neighborhood Housing Services Invest in Brooklyn Initiative, and Chaired the Caribbean Tourism Organization's Inter-Faith Celebration.
Furthermore, Pastor Gil served as Vice President of various organizations; The St. Lucia House Foundation, Church of God 7th Day Pastor's Network, Inc., and, Churches United to Save and Heal.  Pastor Gil's dedication to save youth from gun violence and gangs prompted him to become the founding President of the 67th Precinct Clergy Council, which serves as a liaison between the police and the community.  He is a graduate of the New York Police Department Citizen Academy, as well as the FBI Citizen Academy.  Mr. Monrose has travelled extensively across the United States, and has partnered with groups across the Caribbean. Africa, Brazil, Moscow, England, and Israel, as a guest speaker to youth, and likewise adults, empowering them to become active in their communities, and to be responsible citizens of the world.  Locally, Pastor Gil works with various elected officials and community leaders as a moral voice and spiritual counsel on issues affecting the community at large.  As the loving husband of wife Dianne, and father to Gianne and Joshua, Gilford is a passionate advocate for families and children.  Mr. Monrose and his family live in Weeksville, Brooklyn.
"We judge ourselves by what we feel capable of doing, while others judge us by what we have already done."  Henry Wodsworth Longfellow.