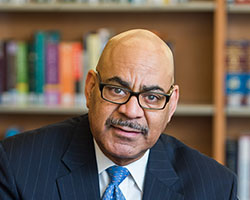 Rev. Charles H. Hammond, Ph.D.
Born on September 23, 1950 to Charles and Lorraine Hammond in Kings County Hospital, Brooklyn, NY.
Married to Myrna Marie Hammond since November 21, 1981. Two grown children, Charles III and Melinda. Two Grand-daughters, Tekoa Jolie Hammond and Avery Hammond.
Serving as an Associate Pastor at the Brooklyn Tabernacle church since 1988 to the present. Joined Nyack College & Alliance Theological Seminary in 2005 as Assistant to the President, Dr. David Schroeder. Currently serves as the Associate Dean of Students for the NYC Campus undergraduate population (website:www.nyack.edu).
Bachelor of Science degree in Business Administration from NYU.
Master of Professional Studies degree from Alliance Theological Seminary in Urban Ministry.
Doctorate degree from Trinity College of the Bible and Trinity Theological Seminary in Newburgh, Indiana.
Dissertation published was "Second Generation Korean American Presbyterians revitalizing their faith by adapting to North American Culture".
Serves as secretary board member for Christ Tabernacle Church, Glendale, NY, board member for Grace Gospel Tabernacle, Queens, NY, and board member for NYSUM (New York School of Urban Ministry), LIC, NY.